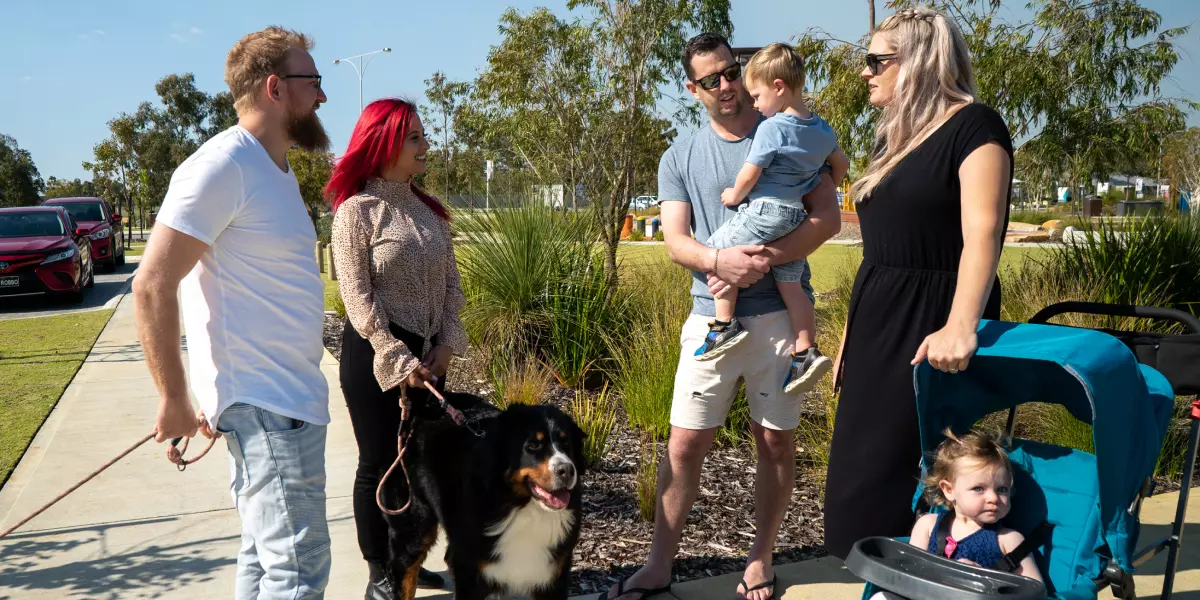 Residential land communities (often referred to as 'greenfield' communities) come complete with all the services and amenities buyers need, making them an increasingly popular choice for Australians. They provide the opportunity to live in a residential development that's purpose-built for comfort, security, convenience and lifestyle.
Whether you're looking to buy your first home, a larger property to support your busy, growing family, a new lifestyle option, or a wealth building investment opportunity, these types of developments have a mass market appeal. But if you've never experienced these modern communities, you may be wondering what residential land community living is really like and if it's the right choice for you? How do you know if it's the right type of community for you to buy in?
In this blog we answer all of your questions about living in 'greenfield' residential land communities, discuss the benefits, debunk common myths and hear from other buyers about life in these thriving communities.
What are residential land communities?
Residential land projects are the development of real estate on previously undeveloped land. Sites used are often near waterways and in attractive areas within or on the boundaries of a town, city or suburban area and close to transport routes. This makes them an ideal choice for buyers who want the affordability of new builds, outside the constraints of established suburbs and inner city areas.
Unlike buying an existing property in an established neighbourhood, these developments are built from scratch and are carefully planned to provide well thought-out amenities, recreational spaces and conveniences to create thriving, residential hubs.


Benefits
For many buyers, residential land developments tick all of the boxes, and it's easy to see why:
A key benefit of these developments is they provide a variety of high–quality housing options in sought-after locations.
Residents have the convenience of all of the amenities they need, close to home. These typically include recreational areas, community services, transport hubs, nearby shopping centres, restaurants and cafes.
Like-minded neighbours - enjoy close connections with neighbours who are at the same stage in life and share common interests, have the opportunity to get involved in community events and gather friends and family in a safe, comfortable environment.
High quality infrastructure - from new roads and services to homes that are built to a consistent, high standard that protects the integrity of the development. These developments represent excellence in every way.


Debunking myths
Let's look a little closer at some of the preconceived ideas that could be holding you back from considering buying your next home in a residential land community:
Cookie-cutter homes - all of the houses look the same in these developments, right? Wrong. As a buyer you'll have a range of house types and designs to choose from, allowing you to create a contemporary home that reflects your personal style and way of living.
Lack of character and soul - each community is carefully planned to reflect its natural environment, while ensuring residents have beautifully landscaped parks and communal areas to enjoy. This means every development is attractive and unique.
No room to grow - actually, the opposite is true. Master planned communities offer plenty of new build housing options, catering to buyers at every age and stage of their property journey. So wherever you're a first home buyer, an empty nester or something in between, you won't need to look far for your next property.


First home buyers - the Nguyens
Young couple Cuong and Trang Nguyen bought their first home in Brisbane's 'Ellendale' residential land community and they couldn't be happier with their decision. The Cedar Woods development located near the city centre, ticks all of their boxes - plenty of new facilities, family-friendly and close to good schools.
"Ellendale has it all, as it's in the established area of Upper Kedron but is the only major master planned community this close to the Brisbane CBD", say the couple.
"With lots of bushland and a local park and playground, there's lots of space for children to play outdoors and it's a beautiful relaxing environment for us to come home to at the end of each day, looking out over the trees and enjoying nice sunsets."
Everyone wants to feel a sense of belonging. As well as providing residents with a great place to live, residential land communities offer the opportunity to connect with like-minded neighbours. You'll enjoy an enviable lifestyle of comfort and convenience in a beautiful setting.
At Cedar Woods our projects range from large residential land communities in high growth areas to smaller urban renewal communities offering apartments and townhouses in established suburbs. So when you work with us you're guaranteed to find a home and location that's just right for you.
Read more about the benefits of residential land community living here or check out our guide to buying your first home.